Quick facts:
Program type: Classic High School



Duration: Academic year, or semester



Visa type: Student visa



Language: Basic German knowledge is preferred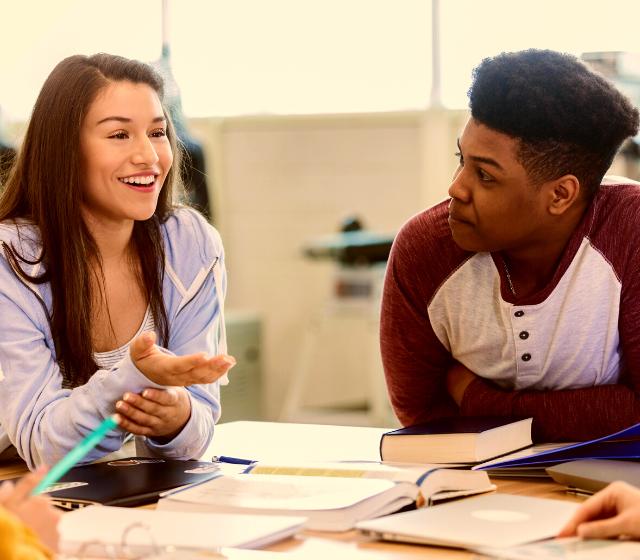 About high school in Germany
As an exchange student in Germany, you will get to experience the life of the German teenagers. The classes in the high school here are usually quite informal, and you as a student are encouraged to think and participate actively in the classroom discussions.

All your classes will be in German, which may be a bit challenging in the beginning, but your teachers are, of course, willing to help you. For each day, you will notice how your language skills improve, and soon you will be able to join the discussions just like any other German student.
Get in touch
Get our high school brochure
Get our high school brochure for more information about our exchange programs!
Frequently asked questions
As a German speaker, you can communicate with millions and millions of people. This is a qualification that will open plenty of doors for you in the future, not least career-wise. Germany is one of the world's biggest economies, and as an exchange student, you will be enjoying a country with friendly people, excellent education, and living standards.
By staying with a host family, you will experience what it is to live like a true German. You will get to try typical German food, such as different kinds of wursts and sauerbraten, and learn more about the customs and traditions. It is the ultimate way to get to know the country from the inside out.

Since the German language will almost always surround you, you will become a fluent speaker much faster than you can imagine. Make sure to always engage in conversations with your host family, even if you may be a bit insecure in the beginning. Tell them about your day and ask them about theirs. Like this, you will become more and more fluent with each day passing.
Our host families come in all shapes and sizes and live all over Germany. Some have kids and pets, some live in big houses in the countryside, and others in apartments in the city.

What they all have in common is that they have a passion for cultural exchange and are looking forward to finding out more about you and where you are from. Introduce them to some American films and music or make them a typical dish. It is always much appreciated when the students do that little extra to show recognition to their host families.
In Germany, we offer our Classic program. The Classic High School program is the traditional exchange program, where you get matched with a caring family somewhere in Germany. It is the perfect program for a genuine German exchange experience. After getting paired with the perfect host family for you, the search for an excellent high school in the nearby area begins.