The right program for you!
Your goals will determine which high school program is right for you. From our first connection, throughout the application process, during your high school exchange abroad, and until you are back home, we'll support you every step of the way. Our consultants will help you find your dream school or program; answer your questions; walk you through the application process with the school and the appropriate visas. If you and your parents prefer to work with a local agency, we'll connect you with one of our long-standing professional partners around the world.
What is an international student exchange?
Your high school experience abroad can be short-term or long-term. You'll immerse yourself in a new culture, learn a new language, grow as a person and develop greater confidence. If you want to control where you'll study, what sports or arts or academics are available to you, the Select program is your best option. We'll help match you with a school that will support your dreams, place you in the right accommodation – either with a carefully selected host family, or on campus at a wonderful boarding school, where you will live with your friends and choose from a wide range of activities and subjects. We'll take care of you throughout your program – whether that is for a semester, an academic year or even multiple years. It's up to you!
If your goal is a cultural experience for a year or a semester but don't have specific requirements, our Classic program might be perfect for you. We'll match you with a caring host family and you'll attend a nearby school that we choose for you. This immersion in local culture will allow you take advantage of all that school and host family have to offer.
We also offer a range of online and hybrid programs. With our Dual Diploma program, you can add online courses to a J-1 or F-1 year in the USA and earn a dual diploma from a prestigious USA school and from your home country. If you are not able to study abroad, we also have an entirely online option.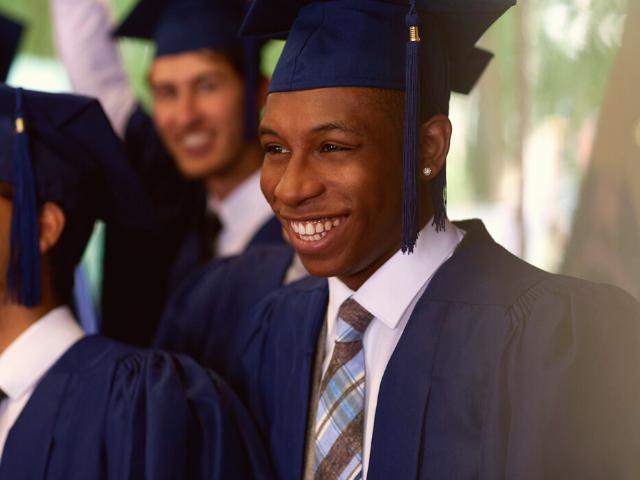 Highlights
If you are between 14-18 years old and you would love to study high school abroad, we have programs for you! For even younger students, some boarding schools can accept students in middle school and even younger. You can look forward to making new friends, studying high school in a new country and learning a new language – skills that will empower you to learn for life, in a safe and reassuring environment with a carefully selected host family or on campus with your friends at an excellent boarding school.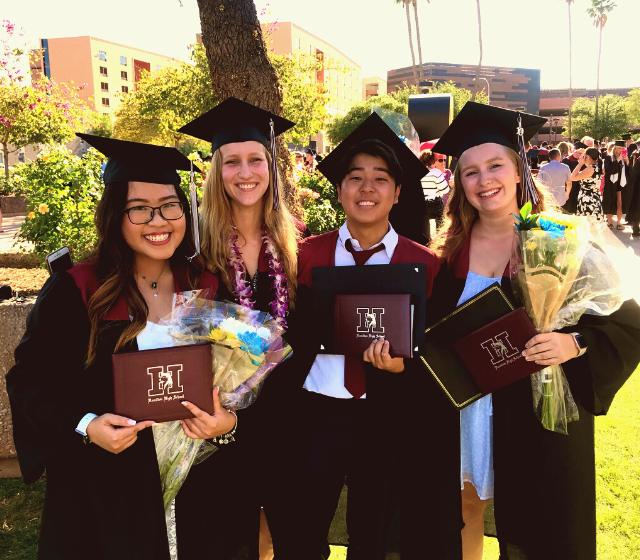 Maximum control: Select
If you want to control where you'll study, and what sports or arts or academics are available, the Select program is your best option. We can help you choose your school based on what you want, and then we will place you in the right accommodation and take care of you throughout your high school study abroad, whether that is for a semester, an academic year or even multiple years. It's up to you! It's a great academic pathway to higher education.
Apply now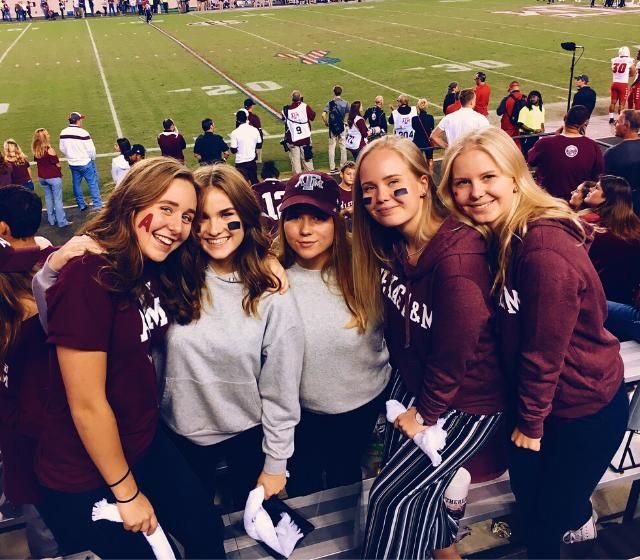 Cultural experience: Classic
If you are looking for a cultural experience for a year or a semester, our Classic program will match you with a welcoming host family and place you in a nearby school. We find the host family and choose the school, and you can enjoy what they have to offer while immersing yourself in local culture. It's great for students who can be more flexible in where and what they study.
Apply now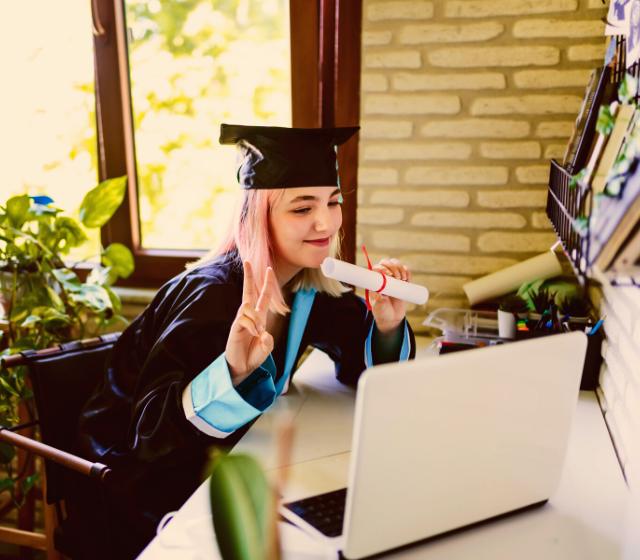 Online Diploma programs
You can earn a Dual USA Diploma by studying online with courses from a prestigious USA boarding school, in different ways! If you are going to study for a year on the USA Classic J-1 or Select F-1, you can upgrade your program with a Dual Diploma. Or, if you are not planning on studying abroad you can take your courses entirely online. Either way, you'll earn a diploma from your home country and from a prestigious American boarding school. Take your online courses at your leisure and when it suits you, but twice a month you will meet your teachers and classmates online in real time. This can be a great option, and a strong preparation for acceptance into a competitive global university.
Learn more
The Educatius process
1.
Talk to an advisor about what you want
2.
We work together on your application
3.
We submit your dream application
4.
We arrange payment/accommodation
Frequently asked questions
If you are between 14-18 and are still in high school, talk to us about the possibilities. In some cases, our boarding school partners will take younger students. Of course, your parents or guardian must support your application. We place thousands of students from 50 countries every year in excellent schools and with caring host families in 10 countries.
Start by booking a free consultation with an Educatius consultant. We'll take the time to understand your goals and match you with the best program for you. In our Select program, we'll support your application to the school and then match you with a great host family, or arrange on-campus accommodation at an excellent boarding school. In our Classic program, we will match you with a host family first and then select a nearby school. Either way, we will support you throughout the application process for any visas that your destination country requires; we'll arrange payments, travel and accommodation, and we'll provide multiple layers of support throughout your stay.
The USA is our most popular destination. International exchange students love the American school spirit, challenging and creative academic, arts and sports choices, fun school clubs, extracurricular activities and so much more! They love the friendly host families and classmates, exciting holidays such as Thanksgiving and Hallowe'en, and spending time in famous cities such as Los Angeles, New York City, Miami, Seattle, San Francisco and Boston, as well as warm heartland experiences.

Educatius offers a wide selection of USA public, private and boarding schools. Our counsellors will work with you and your budget to put something together that's perfect for you.

The UK, with its excellent schools, strong traditions and beautiful countryside, tends to be our next most popular destination – but international students love all the others too: Australia, Canada, France, Germany, Ireland, Italy, New Zealand, Spain and Sweden.
We offer the Select program, where you choose your dream school and we place you with a caring, welcoming host family or on campus with your friends at a great boarding school. Our more budget-friendly Classic program is a traditional cultural exchange where we match you with a host family that will immerse you in their culture and language while you study in a nearby school. In some destinations, this program sells out quickly. In many of our destinations, you can submit a request for a specific area or city, at an additional fee that will be charged only if your request is approved.

We also offer a Boarding Exchange program in the USA with enriched academics and the convenience of on-campus accommodations, meals, amazing facilities and extracurricular activities. Thanks to our longstanding relationships with educators across the USA, we can match you with boarding schools that have allocated spots for international students such as you to ensure diversity on campus. It's how we deliver an exceptional boarding school experience at the lowest possible price.

We also offer in-person Soft Landing Camps in many destinations to prepare you for the experience of a new country.
If you are not in a position to travel to study abroad, our online program is an option. You can study entirely at your own convenience, meeting your teachers and classmates in real time twice a month. Or you can study in a combination of online plus a year in an American high school on a J-1 Classic or F-1 Select program. Either way, you can earn a Dual USA high school diploma from prestigious Thornton Academy or Washington Academy, while also earning a high school diploma in your home country at the same time. This option is excellent for your path to university.

We offer online English and other programs to support you in advance of your experience studying high school abroad if you want to upgrade your language skills before arriving at your destination.
In Europe, you can choose from beautiful green Ireland, delightful France, economic powerhouse Germany, food and design-conscious Italy, amazing Spain or fascinating Sweden. Each one offers a unique cultural and linguistic experience. Talk to your Educatius advisor about which international student experience is right for you.
The price for your high school exchange will depend on your destination country, the program you choose and the duration of your exchange. We'll work with you and your budget.
International student exchanges can vary from just a few weeks to a semester, to an academic year, a full year or multiple years. We have many options.
Visa requirements vary according to both your country of origin and your destination country. Most countries require students to get an international study visa. After you apply and pay your deposit, and after you are accepted to the program, you will be issued visa paperwork. In some cases, the application can be done online. The USA requires you to visit its embassy in your home country for a student visa. Rest assured that Educatius has deep experience with all these application processes and will guide you through it every step of the way.